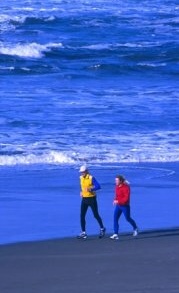 Remember when doctors made house calls? Remember when everyone in the health care profession cared enough to take time with you and listen to you? You probably thought those days were over, right?
Well, they're not. Those good old days are still here in a big way at Physical Therapy of Sarasota. In fact, they never really left. For over 22 years we've been delivering good, solid, old-fashioned health care to thousands of your friends and neighbors.
We've been delivering leading-edge physical therapy and outstanding results. So whether you need post surgical rehab for a hip, knee, or shoulder, or relief from a sports injury, back pain, arthritis, bursitis, tendonitis or TMJ, we can help you get out of pain and back to your favorite activities in less time than you think.
We do it with old-fashioned caring and leading-edge, results-oriented physical therapy treatment and state-of-the-art technology. To learn more about what we do, click any of the links to the left and take a look around Physical Therapy of Sarasota, Florida. Or, call us to set up an appointment and have a look for yourself in person.